Notice of Public Hearing – June 20, 2023 7:00 pm
The Burbank Sanitary District Board of Directors will hold a Public Hearing to consider the following:-
1. Collecting Sewer Service Charges on the Fiscal Year 2023-2024 Tax Roll
2. Proposed Annual CPI Solid Waste Rate Increase of 5.3% for Fiscal Year 2023-2024
The hearing will be held at the District Office, 20863 Stevens Creek Blvd, Suite 100, Cupertino, CA 95014 on Tuesday, June 20, 2023 at 7.00 pm and via teleconferencing.
Public may call in at 1-866-899-4679 Access Code: 785-518-013.
Contact the District at (408) 255-2137 for more information
Ordinance No. 67
On November 15, 2022, the Board of Directors of the Burbank Sanitary District, Santa Clara County, California, adopted Ordinance No. 67 increasing the compensation payable to members of the Board of Directors from $115.50 per meeting or day of service to $240.00 per meeting or day of service, effective January 14, 2023, by unanimous vote of the Board of Directors in attendance, consisting of Rene Prupes, Kenneth Colson and Michelle Kaelker-Boor. Click here to view the Ordinance No.67
Notice of Public Hearing – November 1, 2022
The Burbank Sanitary District Board of Directors will hold a public hearing to consider increasing Board Compensation from $115.50 to a maximum of $240.00.  The hearing will be held on Tuesday, November 1, 2022, at 7.00 pm via teleconferencing.  Public may call in at 1-866-899-4679 Access Code: 785-518-013
District-Wide Capital Improvement Project – October 5, 2021
In December of 2016, the Burbank Sanitary District applied for a Clean Water State Revolving Fund (CWSRF) loan.  On April 29, 2021, the District was notified that the CWSRF loan had been approved.  The loan will provide funding for construction costs and soft costs (engineering, administration, and construction support).  The funds from the CWSRF loan will be allocated towards the District-wide Capital Improvement Project.
Funding for this District Wide Capital Improvement Project has been provided in full or in part by the Clean Water State Revolving Fund through an agreement with the State Water Resources Control Board. California's Clean Water State Revolving Fund is capitalized through a variety of funding sources, including grants from the United States Environmental Protection Agency and state bond proceeds.
Project Description
The work to be done under this contract consists of, in general, but not limited to the cured in place rehabilitation approximately 43 line segments of 6 and 8 inch sewer mains for a total length of 18,010 linear feet and spot repairs at 41 locations with open cut trenching with an approximate length of 340 linear feet.  Work includes the reconnection of active sanitary sewer service laterals, reconstruction of active sanitary sewer service laterals and reinstatement of active sanitary sewer service laterals.
Project Schedule
Construction work is to begin in October 2021 and expected to be completed by February 2022. Call the District 408-255-2137 for more information. Click here for the project schedule. (Updated 11/12/2021)
Project Location
The project is located in San Jose, California, in Santa Clara County. Click here for the project location.
Click here to check your street name and date of construction. (Updated 11/12/2021)
Click here to check your street name and date of construction. (Updated 12/30/2021)
09/01/2020: Notice Of Vacancy – District Clerk
We are looking for someone special to serve the District as District Clerk . Please click on the Notice of Vacancy for Position link below.
Notice of Vacancy – District Clerk
05/20/2020: Ordinance No.66
Ordinances 66 was adopted by the Board of Directors of the Burbank Sanitary District, Santa Clara County, California, on May 19, 2020, by unanimous vote of the Board of Directors in attendance, consisting of Ken Colson, Rebecca Yoder, Michelle Kaelker-Boor, Rene Prupes and Procopio Sclafani. Ordinance No. 66 provides for the imposition and collection of sewer service charges for Fiscal Years 2020-2021, and includes rate schedules for residential and non-residential customers, the effective dates for those charges, how they may be adjusted, how those charges are to be billed and paid, and how those revenues are to be used. Click here for the full text of the ordinance.
03/03/2020: Lid Flip Audit
In the next three months, GreenWaste, the company that collects our garbage and our recycled materials, will be performing an audit of the contents of our recycling containers. They will be evaluating the segregation and cleanliness of the materials. This is for informational purposes only and will be used to give us a sense of how we are doing.
09/18/18: Living Lands and Waters
BSD Staff were inspired by Chad Pregracke's keynote address at the summer California Association of Sanitation Agencies (CASA) conference. Chad is the founder and President of Living Lands and Waters
Here is a link to a video of him that helped get him started.
El Distrito Sanitario de Burbank fue inspirado por el discurso presentado por Chad Pregracke en la
conferencia de la asociación California Association of Sanitation Agencies (CASA). Chad es el fundador y presidente de la organización Living Lands and Waters.
Aquí hay un hipervinculo a un video que demuestra sus esfuerzos iniciales
12/12/2017: Commendation for Director Keri Russo
Board of Directors presented commendation to Director Keri Russo for her seven years and eights months of distinguished service as a member of the Sanitary Board of Burbank Sanitary District on December 12, 2017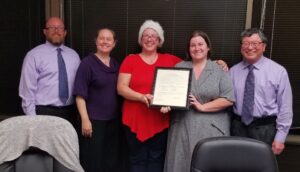 4/11/17 GreenWaste Yard Trimmings Video
Please check out the video below that gives insight into how your yard trimmings are collected as well as how this process helps the local community. Click here to watch the video.
1/30/17 District Updates:
Thank you for your help in the recent Median Household Income (MHI) Survey that was mailed out. It has been a year since the Burbank Sanitary District held the Financial Crisis Public Meeting. The District has received the results from the MHI survey; and, unfortunately, we do not qualify for the State Water Board's Small Community Wastewater Grant Program. The District is now in the process of pursuing the State Water Board's Clean Water State Revolving Fund Program for low interest financing loans, which can take another 6 – 12 months to see if we qualify to fund the District capital improvement needs. Meanwhile, the District, along with the Tributary Agencies, are still in mediation with the City of San Jose on matters relating to the Master Agreement of the City of San Jose/Santa Clara Regional Wastewater Facility.
12/16/2016: Residential Income Survey for Potential Financing for Our District
For all residents you have by now received in the mail a letter from our financial facilitator, RCAC, asking you to complete an income survey. This income survey could help the Burbank Sanitary District evaluate different options to finance the District's upcoming capital improvement projects for the next few years. Please help spread the word, be proactive, and tell your neighbors to complete it! The responses to the survey are confidential. Please complete by Thursday, December 22. If you have any questions, please do not hesitate to call or email the District Administrator, Ivy To, at ito@markthomas.com or (408) 205-1080. Thank you!
Disposal Tip
All of your recyclables and garbage get further separated by material type at the GreenWaste Material Recovery Facility. In order for the GreenWaste truck driver to provide advanced notice to those who do the sorting, please place your household batteries in a clear plastic bag and place them on TOP of your recycling bin. For more tips, visit the GreenWaste Burbank Sanitary District site at www.greenwaste.com/burbank-sanitary-district.
"KQED – Bay Curious – Why does San Jose have so many urban islands?"
Special thanks to KQED's Ericka Cruz Guevarra for a great overview of urban islands in San Jose. As part of their Bay Curious segment, a listener requested some details on the history of urban islands in San Jose, including the Burbank Community. Click here for more information.
Transparency Certificate of Excellence
Burbank Sanitary District is proud to announce that we have received the Special District Leadership Foundation District Transparency Certificate of Excellence. Click here to view our certificate.
Ordinance No.62
The Burbank Sanitary District Board of Directors passed Ordinance No.62 – Ordinance establishing policy regarding sewer connections, cleanouts, maintenance of side sewers, work about existing sewers, and sewage backflow protective devices. Click here for the Ordinance No 62.
Press Release: Wastewater Coalition Files Claim and Seeks Public Documents to Ensure Proper Use of Ratepayer Funds by San Jose-Santa Clara Regional Wastewater Facility
January 25, 2016 — A coalition of cities and small wastewater agencies representing communities throughout the South Bay has banded together to demand greater accountability and transparency regarding the use of ratepayer funds tied to the San Jose-Santa Clara Regional Wastewater Treatment Facility …..more
Street Sweeping Update
Effective November 1, 2015, Burbank Sanitary District will no longer provide street sweeping services to our residents. The BSD Board has evaluated the benefits currently provided by our street sweeping vendor and has decided to terminate sweeping services for the following reasons: 1) Due to the drought, only reclaimed water can be used in street sweeping equipment. This requirement posed operational issues for our street sweeping vendor. 2) Many vehicles are parked on the street during sweeping, making it difficult to clean all streets effectively. 3) The types of street sweeping equipment used by our vendor may create more air pollution. 4) The BSD is exclusively responsible for sewer operations and maintenance. Street sweeping is beyond the District's preview or obligation. Note: Any money previously allocated or collected for street sweeping will now be redirected to our ongoing Capital Improvement Projects.
Next BSD Meeting
Regular Board Meeting
Tuesday –  December 19, 2023
@ 7:00pm
The meeting will be held in person at the District Office, 20863 Stevens Creek Blvd, Suite 100, Cupertino, CA 95014 and via teleconferencing and anyone interested may also call in. Download the meeting package for instructions on how to participate.
Download Board Meeting Packet
(available 72 hours prior to the meeting)
Need To Dig?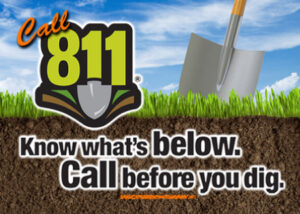 Garbage Violation
Call 408-255-2137 or Email
administrator@burbanksanitary.org
for any garbage violation.
"Ordinance 57. Section 11. Prohibited Acts.
No person owning or occupying any building, lot or premises within the District shall allow any refuse or other deleterious or offensive substance to accumulate or remain in or upon said building, lot, or premises.
No person shall dump, place or bury in any lot, land or street or alley within the District, any garbage or any other deleterious or offensive substance under any circumstances whatsoever, nor shall any person dump, place or bury within the District any rubbish…"
"Ordinance 57. Section 12. Containers.
…No garbage container shall be placed or
kept in or on any public street, sidewalk, footpath or other public places whatsoever…
No rubbish container shall be placed or kept
in or on any public street, sidewalk, footpath
or other public place or in front of the premises of the person requiring rubbish disposal for
over twenty-four (24) hours prior to removal
by the collector."
District's garbage collector, GreenWaste Recovery, Inc., allows Burbank residential customers one free bulky waste pick up per year. Please contact them at (408) 283-4800 or online at www.greenwaste.com for details.