BURBANK SANITARY DISTRICT
2021
ANNUAL REPORT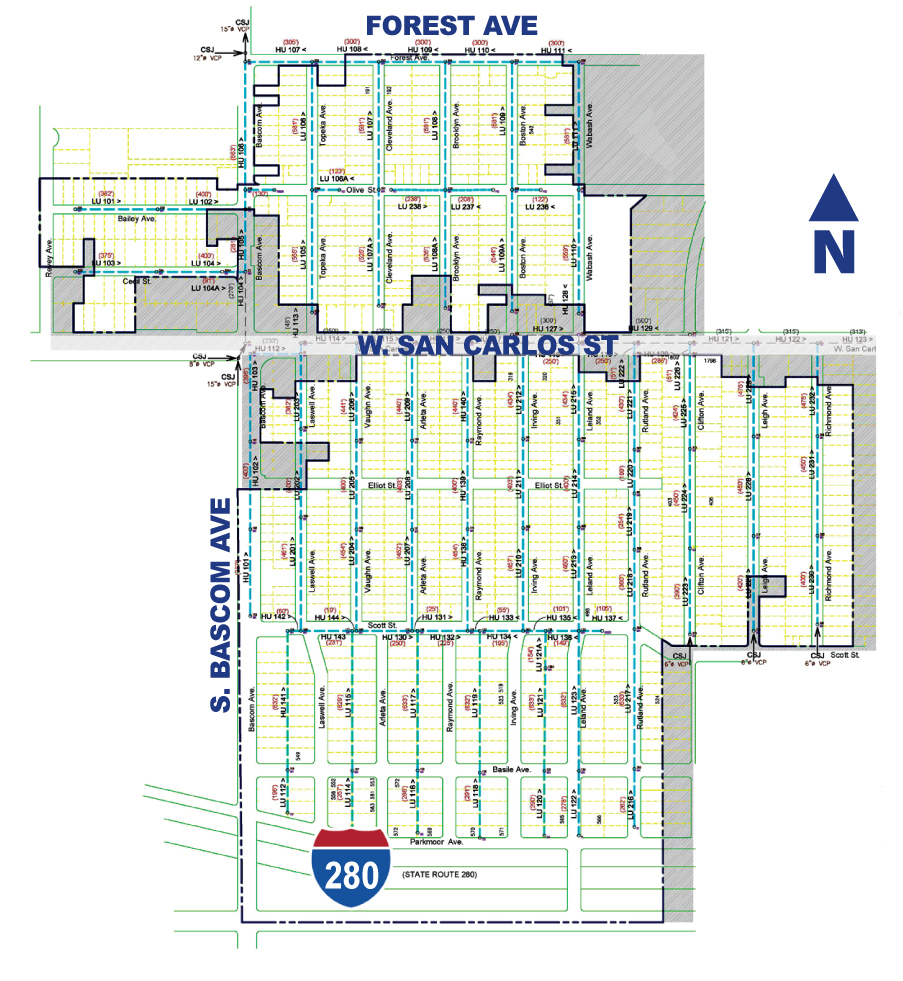 BURBANK SANITARY DISTRICT
Established in 1940, the Burbank Sanitary District is responsible for wastewater collection and conveyance and solid waste (garbage and recycling) services in the unincorporated Burbank area. The District serves approximately onethousand properties in the area mainly from Forest Avenue south to Parkmoor Avenue and from Bascom Avenue east to Richmond Avenue. Our mission is to protect public health, support the environment, be cost-effective and transparent, and engage the public as we provide wastewater and solid waste collection services.
UPDATES ON DISTRICT'S CAPITAL PROJECT
In December of 2016, the Burbank Sanitary District applied for a Clean Water State Revolving Fund (CWSRF) loan. In April 2021, State approved CWSRF to BSD to complete the District's capital projects. The loan amount is approximately $5 Million.
The work which began in October 2021 includes the reconnection, reconstruction, and reinstatement of active sanitary sewer service laterals.
The on-going work in general consists of the cured-in place pipe rehabilitation of approximately 43 line segments of 6 and 8 inch sewer mains for a total length of 18,010 linear feet and spot repairs at 41 locations with open-cut trenching with an approximate length of 340 linear feet.
Construction work began in October 2021 and is expected to be completed by February 2022. This will require significant trenching throughout the district with various street and road closures until February 2022.
A map of affected streets, the schedule for the work can be found at: www.burbanksanitary.org.
FISCAL YEAR 2020-21 ACCOMPLISHMENTS
Cleaned approximately six miles of sewer mains.
Cleaned approximately 125 District-maintained lower laterals
Launched ADA compliant District Website
Held the Annual Clean Up Day with special COVID-19 guidelines
Updated and Re-certified the Sewer System Management Plan (SSMP), which summarizes management and operations of our collection system. It is required for BSD to re-certify its SSMP every 5 years to comply with the State Water Resources Control Board's General Waste Discharge Requirements for Sanitary Sewer Systems.
Obtained State Revolving Fund (SRF) Loan funding approval for District Capital Improvement Project.
FISCAL YEAR 2020-21 FINANCIAL POSITIONS
Budget versus actual (See detailed table above right)
Most categories included in operating expenses were in line with the approved budget. Capital projects at the treatment plant were delayed and the District incurred capital costs for design only, resulting in reduced expenses for these two categories.
FISCAL YEAR 2020-21 BUDGET VERSUS ACTUAL
Revenue was $75,575 more than the budget revenue. This difference is primarily the result of the treatment plant credit that the District received from the City of San Jose. Each year the City compares actual treatment plant costs for the prior year to the payments received from the District. The payments to the City are often greater than the actual costs which results in miscellaneous income. This income is used to pay treatment plant costs for the next fiscal year.
| wdt_ID | - | 2020-21 Budget | 2020-21 Actual |
| --- | --- | --- | --- |
| 1 | OPERATING REVENUES | | |
| 2 | Sewer service charges | 1328,000 | 1328212 |
| 3 | Permit, Inspection & Interest | 25,000 | 35,380 |
| 4 | Miscellaneous Income | 75,000 | 139,983 |
| 5 | Total Income | 1,428,000 | 1,503,575 |
| 6 | OPERATING EXPENSES | | |
| 7 | SJ/SC Wastewater Treatment | 713,900 | 425,266 |
| 8 | San Jose Joint use | 20,000 | 0 |
| 9 | District capital projects | 450,000 | 190,296 |
| 10 | Management & Engineering | 229,900 | 236,497 |
| | - | 2020-21 Budget | 2020-21 Actual |
APPROVED FY 2021-22 BUDGETS
Through careful fiscal planning, we safeguard BSD public assets to ensure responsible maintenance and reliable service to customers at the lowest feasible rates.
The District's approved expense budget is $6,282,925, which includes a budget for District capital of $5 million to complete the current CIP project. The cost for the CIP project as well as the loan funding needed for the CIP are both expected to be much less than the budgeted amount.
The current sewer service charge for a single family residence is $75.69 per month.
FY2021-22 Total Expenditures $6,282,925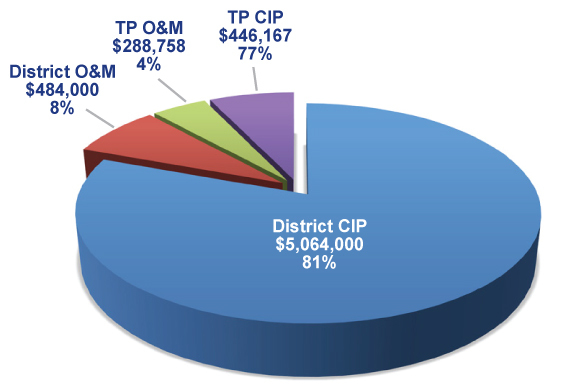 FY2021-22 Total Revenues
$6,492,000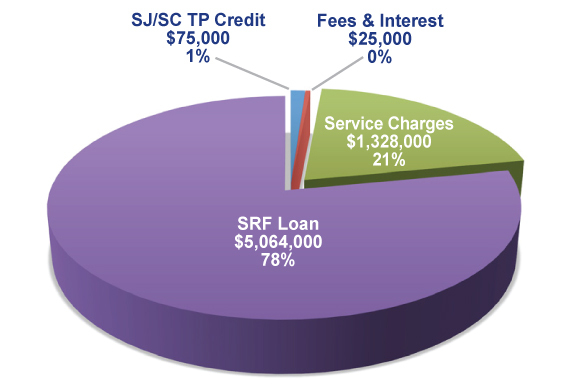 Burbank Sanitary District contracts with GreenWaste Recovery, Inc. to provide residents and businesses with garbage service including recycling and yard trimmings. Materials are placed out for collection in three containers: garbage, recycling, and yard trimmings. The materials collected from Burbank Sanitary District are brought to the GreenWaste Material Recovery Facility in San Jose for processing. Contamination in the recycling bins degrades other recyclable material and can lead to higher waste disposal costs. To keep the neighborhood clean report any garbage violation to the Burbank Sanitary District by emailing administrator@burbanksanitary.org or calling 408-255-2137. GreenWaste offers one free bulky waste pick up per year.
Contact GreenWaste at 408-283-4800 or visit the website at www.greenwaste.com for details.
BURBANK SANITARY DISTRICT ORGANIZATION CHART
A five-member elected board of directors, comprised of Burbank residents, meets twice a month to review and make policy decisions and to provide guidance and oversight to Mark Thomas & Company, Inc., the District Manager, as it manages administrative and maintenance operations of the District.
BOARD OF DIRECTORS
Pete Sclafani – President
Rene Prupes – Secretary
Michelle Kaelker-Boor – Director
Rebecca Yoder – Director
Ken Colson – Director
BOARD MEETINGS
First and Third Tuesdays of each month at 7:00 PM. Currently meetings are conducted via teleconferencing due to COVID-19. Anyone interested may call in – Please check the District Website www.burbanksanitary.org for the call-in details.
DISTRICT-WIDE CAPITAL IMPROVEMENTS PROJECT PHOTOS
A District-wide Capital Improvement Plan (CIP) was developed based on prioritized repairs and upgrades.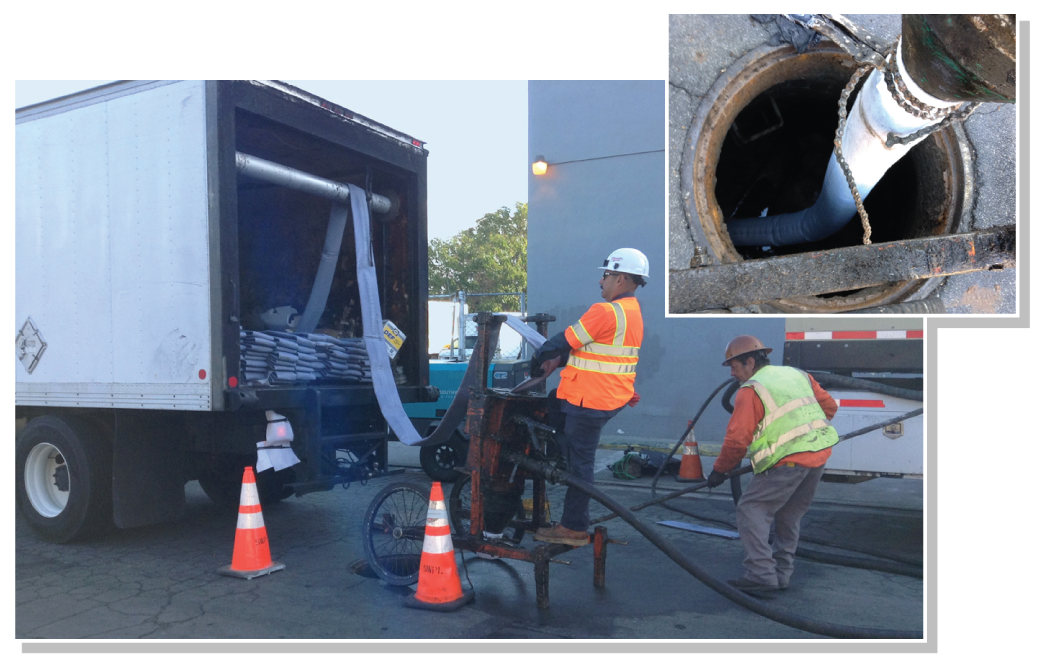 2021-2022 District-wide CIP work using cured in-place lining method
Your sewer lateral is a pipe that connects the plumbing system in your residence or business to BSD's main sewer line. Property owners are responsible for maintenance, repair, or replacement of their entire sewer lateral up to its connection to BSD's main line. For more information visit us at www.burbanksanitary.org.
Tips for a Healthy Lateral: Only human waste, soap, toilet paper, food ground in a garbage disposal, household cleaning products, and over- the-counter drain cleaners should go into your sewer line. Keep wipes, paper towels, tissues, fats, oils, grease, medicines, and toxic chemicals out of your lateral.
If you think you have a sewer lateral problem, please contact a licensed, insured drain cleaning company or plumber and take necessary actions to keep your sewer lateral healthy.
If you notice any sanitary sewer overflow in the lateral, mainline or manhole, please inform the District by calling 408-255-2137.
If a problem is found in your lateral, before any work begins, a BSD repair permit is required (even for repairs on private property). Call 408-255-2137 for more information or visit us at www.burbanksanitary.org.
20863 Stevens Creek Blvd., Suite 100 Cupertino, California 95014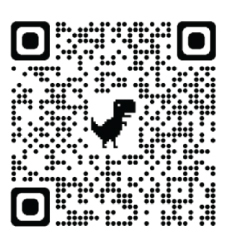 ERCWSS POSTAL CUSTOMER (SAMPLE: TO BE UPDATED WITH CORRECT ADDRESSEE INFO)
PRESORTED STD U.S. POSTAGE PAID